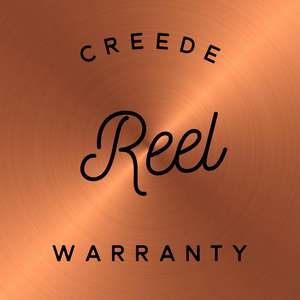 Moonshine Rod Company
Creede Reel Warranty
Your Moonshine reel comes with a 1 year free service guarantee from the date of purchase to either fix or replace your reel if it malfunctions due to anything other than accidental or intentional damage.
Any service required due to accidental damage of more than one year after the original purchase date requires a $65 dollar fee to *assess, fix and/or replace, that includes free 2 day shipping after service (where available) to get you up and running, stat.
All warranty requests and orders must be placed by the original purchaser (or in the case of a gift, must provide the name and email of the original purchaser so we can verify on our backend system), with proof of purchase in the form of an order confirmation or receipt. 
Please send your reel with proof of purchase and a written detailed description of its issue to:

Moonshine Rod Company
Attn: Reel Repair
960 S Bellevue Blvd
Memphis, TN 38106

We highly recommend sending your reel via UPS or FedEx only, with insurance and a tracking number. We are not responsible for lost product or delay of delivery from the carrier you chose. 

* We will assess, fix and/or replace your reel at our sole discretion in the order that it was received. Flagrant abuse, reels that have been dropped/bent, fell-out-of-my-rod-vault on the highway, and otherwise user error are on you. Bottom line, if it's on us, you know we'll have your back. Moonshine Rod Company reserves the right to increase the $65 fee for inflation over time based on the US Consumer Price Index.

---
More from this collection